Anuga Select India
HPMF publishes white paper on "The Cotton Journey" at Anufood 2023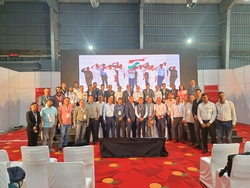 Hospitality Purchasing Managers' Forum (HPMF) published a white paper on "The Cotton Journey" at Anufood 2023. This paper has been prepared exclusively by HPMF Kerala Chapter for the global hospitality industry. The paper narrates the journey of cotton to final hospitality linen. It provides specifications, qualities, procurement tips, etc. for hospitality buyers.
"Our superlative talented member, Shibin Joseph has really worked hard and prepared this paper under the guidance of HPMF Kerala Chapter President Rajesh Nair and Secretary Akhil Ramachandran," informed Nitin Shankar Nagrale, Founder and General Secretary, HPMF.
"HPMF has been a pioneer in setting standards for the hospitality procurement fraternity and always believes in knowledge sharing and developing networks. This is one of the first documents in the world which is specially for the hospitality industry prepared by any trade organisation. HPMF is proud to be the initiator and owner of the same," added Nagrale.
Press Coverage By:Hospitalitybizindia.com