Anuga Select India
From Taiwan's Possmei to Korea's Woongjin; all 'ice' on Indian beverage sector
A slew of beverage makers are looking at tapping the Indian market that's growin by leaps and bounds. At a recently held Anutec - International Foodtec expo in Mumbai, a host of exhibitors showcasing everything from bubble tea to ginseng based beverages were on display.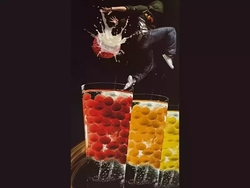 The Indian beverages market is poised to explode with a burst of flavours. From Taiwan's bubble tea maker Possmei to South Korea's Woongjin, a host of beverage players are looking at gulping down a significant size of the Indian beverages market.
At the recently held Anutec - International FoodTec India and Anufood India 2023, food companies from across the world were vying for an opportunity to make an impact in the Indian market. Over 800 companies from over 28 countries participated in this year's edition. Specialised pavilions from Brazil, The Philippines, Turkey, Indonesia, South Korea, Italy and Iran were some of the more dominant countries exploring Indian business opportunities at the expo.
By 2030, India's household consumption will quadruple, making it the world's fifth-largest consumer of food and food technology. The sector significantly contributes to India's economy, accounting for 13 per cent of exports and 6 per cent of industrial investment. With a market size of USD 1.3 billion, the thriving Indian gourmet food sector sustains an impressive 20 per cent Compounded Annual Growth Rate (CAGR).
Food processing is expected to contribute 20 per cent of GDP by 2030. The Indian food processing industry is estimated to account for 32 per cent of the country's total food market. The sector is estimated to generate nine million jobs by 2024.
"India is positioned to become a hub for the world's food supply. There is a great deal of opportunity for multinational firms to see India as the go-to location for food processing and exports on a global scale since we have access to an abundance of raw materials and undeveloped processing capacity," said Jitendra Dongare, deputy AMA, Ministry of Food Processing Industries, Government of India.
Press Coverage By:Brandequity.economictimes.indiatimes.com