Anuga Select India
Koelnmesse India enters a strategic alliance with CASMB for ANUFOOD India 2023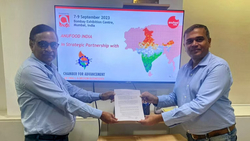 Koelnmesse (formerly known as Koelnmesse YA Trade Fairs) enters a strategic alliance with Chamber for Advancement of Small & Medium Businesses (CASMB) for the upcoming 16th edition of "ANUFOOD India 2023".
ANUFOOD India is one of the most sought-after B2B platforms for the food & beverage trade and retail market in the Indian subcontinent. As India's leading international trade fair for food and beverages, Anufood India brings the largest international business community together. It generates a positive spirit of optimism, personal discussions and contacts with relevant buyers and decision-makers, with ten major trade segments highlighted under one roof. The trade show provides a complete overview of all trends and themes with valuable insights and inspiration.
The Chamber for Advancement of Small and Medium Businesses (CASMB) was established in March 2021 and is becoming a lead voice for the growth & development of small & medium businesses in India. The main objectives of CASMB include promoting small & medium businesses via activities like buyer-seller meets, creating market linkages, supporting seeking help from ministries for business purposes, aligning industry interaction programs, giving guidance about innovative technologies through academia partners, providing capacity building through training etc. CASMB has been a strong partner to Koelnmesse India for a long time.
Milind Dixit, managing director, Koelnmesse India, said, "The Indian Food and Beverage Industry is emerging as a high-profit sector. It accounts for about 3 % of India's GDP and around 2/3rd of the total retail market in India. This strategic alliance will set the center stage for Small & Medium Enterprises to not only enhance their market reach but will also enable them to display their innovative range of products to a wider audience globally."
Nilesh Lele, president of CASMB, said, "CASMB was instrumental in enabling over 43 SMEs to participate in the 15th edition of ANUFOOD India 2022 that witnessed over 19000 visitors and 300 exhibitors from 25+ countries; this year with a dedicated MSME pavilion and Start-ups Pavilion, at ANUFOOD India, CASMB aims to facilitate the SMEs in food & beverage industry and serve as the ultimate connector for food and beverage manufacturers to interact and enter business matching with importers and buyers from all around the world."
Further, CASMB will also conduct a program consisting of knowledge sessions and comprehensive, tailored consultations that cover the fundamental knowledge on export, product development, standard and quality improvement to the international level, marketing knowledge, as well as providing support for SMEs for market testing and showcasing the products at global platforms.
To know more about the event, please contact Nilesh Lele (president@casmb.org.in), Amod Ashok Salgaonkar (director@casmb.org.in) and Priya Datar (priya.datar@koelnmesse-india.com)
Click HERE to subscribe to our FREE Weekly Newsletter
Press Coverage By:FoodTechBiz