Anuga Select India
Koelnmesse India: Portfolio is being expanded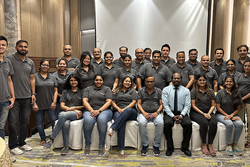 The team of the Koelnmesse subsidiary in Mumbai around Milind Dixit (1st row middle), Managing Director of Koelnmesse for India, Nepal, Sri Lanka, Bangladesh, Myanmar and Bhutan.
Koelnmesse YA Tradefair Pvt. Ltd., the Indian subsidiary of Koelnmesse, has taken over the shares of the external shareholder Ashwani Pande. The company has thus become 100 percent owned by the Cologne-based company. The renaming to "Koelnmesse Pvt. Ltd." takes place.
Gerald Böse, Managing Director of Koelnmesse: "With the takeover of the remaining 25 percent of the company shares, Koelnmesse is now the sole owner of the subsidiary in India. An important step for us due to the importance of the Indian market and the excellent development prospects."
Koelnmesse is planning to expand the existing trade fairs and create new formats. Among other things, the International Hardware Fair India, a new event powered by Hardware Fair, will take place in New Delhi for the first time this year. The date is December 2nd to 4th. Further satellite events for the Cologne trade fairs are also already being planned.
In recent years, the focus of Koelnmesse in India has been on trade fairs in the food and food-tec competence field. Trade fairs such as ANUFOOD India (Mumbai), ANUTEC - International FoodTec India (alternating between Mumbai and New Delhi) or India International Dairy Expo (Mumbai) attracted over 800 exhibitors and more than 50,000 visitors in 2022 alone.
Koelnmesse YA Tradefair Pvt. ltd was founded in 2008 as a joint venture between Koelnmesse and Ashwani Pande. The subsidiary with 28 employees not only works in India, but also in Sri Lanka, Myanmar, Nepal, Bhutan and Bangladesh. Its head office is in Mumbai, with another representative office in New Delhi. // May 30, 2023
Further information: www.koelnmesse.de
Press Coverage By:Auma.de